When software licenses are applied to the Compass, it unlocks the various inputs and outputs that are assigned to the licenses. Once the inputs and outputs are unlocked, your installer can configure them to the physical channels you want to use. The chart below shows you what can be unlocked with each license.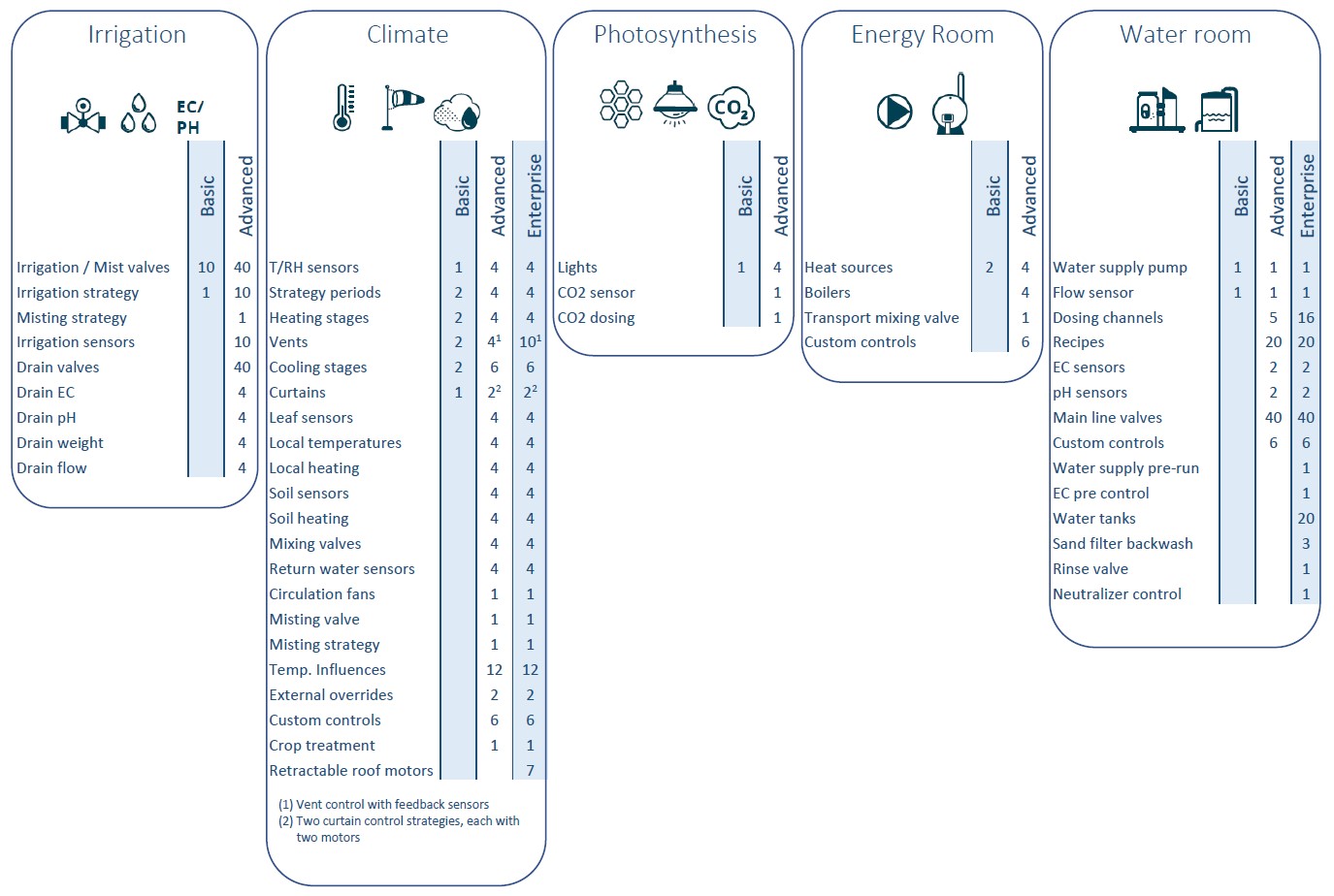 Within a crop zone, everything revolves around the crop. Using the crop zone control modules that are part of Priva Compass, you can operate your installations directly to control the amount of light, water dosage, and/or the humidity level and temperature within a crop zone.
Priva Compass supports standard one weather station. In addition, two universal measurements and two universal time programs are being supported per zone. This allows Priva Compass to be used universally.
For every crop zone and every theme, you can select basic or advanced module licenses. Below is a description the various module licenses:
Irrigation
Photosynthesis
Climate
Water
Energy
Irrigation module
Water is essential for any crop. With the irrigation modules, you can adjust the right amount of water at the right time, to the perfect combination for your crop. No more dehydration or poor root development.
Basic irrigation module
The basic irrigation module lets you control up to ten irrigation valves with a single irrigation strategy. When the strategy triggers an irrigation cycle, all the valves will turn on sequentially.
You can use this irrigation strategy to trigger an irrigation cycle based on daily schedules, multiday schedules or based on conditions such as solar radiation or radiation sum.
Advanced irrigation module
If your irrigation process is more complex, the advanced irrigation module is a better fit for you. This module supports up to forty irrigation valves and ten irrigation strategies. What's more, the module lets you optimize your irrigation strategies using one drain sensor and up to ten irrigation sensors. You can even connect up to forty drain valves.
The advanced irrigation module is especially suited to large-scale cultivation and cultivation on substrate using a mostly automated irrigation process, such as the cultivation of vegetables, cut flowers, and soft fruit.
Climate module
The environment conditions are important for the performance of your crop. With the climate modules, you can simply control and optimize temperature, air humidity and airflow. Now your crop can develop itself optimally with minimal risk of diseases.
Basic climate module
The basic climate module is perfect for use in garden centers and tunnel greenhouses, and ideal for the cultivation of bedding plants and trees.
Use this module to control two vents, two cooling stages, two heating stages and one curtain. This module gives you two periods for separate day and night control.
Advanced climate module
The advanced climate module has everything you need to fully control a crop area. All controls are based on four periods per day, with the possibility of installing four measuring boxes per crop zone. Using this module, you can control four vents with feedback, six cooling stages, four heating stages and two curtains. In addition, you can connect four more temperature sensors, four plant temperature sensors and four separate heating systems.
The module supports four mixing valves for use with tube heating.
To even out your climate, you can also manage air circulation fans. The mist and humidity strategy control lets you manage humidity levels in your greenhouse. You have the possibility to connect up to twelve temperature influences. The advanced climate module offers you a great deal of flexibility based on outside parameters and its fully configurable custom controls. You could, for instance, set the fans to stop running when the vents are opened. In this way, the module allows you to attain the perfect climate at any given time.
The advanced climate module is perfect for you if you run a complex installation for the cultivation of cut flowers, vegetables, or house plants in plastic or glass greenhouses.
Enterprise climate module
The Enterprise climate model gives you access to the specialized retractable roof greenhouse controls.
Photosynthesis module
Photosynthesis is the starting point of every crop. With the photosynthesis modules, you can control and optimize light and CO2 to have the right balance in your photosynthesis process. This results in a higher quality of your crop and a higher yield.
Basic photosynthesis module
The basic photosynthesis module lets you control one growing light circuit within one system. You can select manual switching or a lighting strategy that switches based on time or radiation intensity. To keep your climate stable during lighting, your lighting strategy control can also manipulate your temperature strategy control.
The basic photosynthesis module is ideal for the cultivation of various cut flowers and a number of ornamental plants in (plastic) multi-span greenhouses and glass greenhouses.
Advanced photosynthesis module
Do you want to control multiple growing light circuits or dose CO2? Then the advanced photosynthesis module is the perfect choice for you. This module lets you manage up to four growing light circuits, based on manual switching, time, or radiation intensity. CO2 dosing is automatically controlled to maintain optimum CO2 levels for your crop.
The advanced photosynthesis module is the key to optimizing your photosynthesis. This is especially beneficial for the cultivation of cut flowers, vegetables, and various ornamental plants in glass greenhouses.
Energy module
The realization of an optimal climate is indispensable without energy. With the energy modules, you can control your boilers in the most efficient way.
Basic energy module
If your system makes use of hot water heating, your heat is probably supplied by a boiler. If this boiler has its own control system, you only need to send a heat demand. In this way, you'll find the basic energy module is great for you.
Advanced energy module
Using the advanced energy module, you can control the entire boiler with Priva Compass. This module handles up to four boilers plus one heat manifold. In addition, the advanced energy module offers completely customizable control programs. These programs allow you to control other installations based on the status of your energy installation. It's the flexibility you need to respond to your crop's specific needs.
Water module
At the moment your crop needs irrigation, you need to have a water system in place to supply it. With the water modules, you can provide your irrigation valves with the right amount of water and fertilizers.
Basic water module
Using the basic water module, you can control one pump and connect one flow sensor. It's the ideal water module to use if your water system has its own controls, when you don't apply fertigation, or when you use mechanical dosing systems.
Advanced water module
If you're looking for a water system with automatic fertilizer dosing, the advanced water module is what you need. This module supports not only pump control and flow measurement, but up to five dosing channels. Use them to add acid, lye or nutrients that your crop needs based on your flow, EC, or pH measurements. You can define your target EC and pH levels as well as your nutrient mixtures in recipes. The Compass gives you twenty different recipes for your water system.

Using completely customizable control programs, you can control other installations based on the status of your water installation. The advanced water module is perfect for you if you want a completely integrated way to control and manage your dosing channel water system.
Enterprise water module
If you use more than five dosing channels, the Enterprise water module is your ideal choice. It has all the features of the advanced water module, plus an extension of eleven dosing channels to bring your total up to twenty. On top of that, this module supports EC pre-regulation software. With the Enterprise water module, you can manage up to twenty irrigation water storage tanks. A backwash program is also available to flush your filters when necessary. In short, this module gives you everything you need to control an enterprise water system.