By default, data points that show trending information will display short-term data which is up to 3 or 7 days, depending on your subscription: 3 days if you have the Essentials package and 7 days if you have the Plus package.
If you want to display long-term historical data, you have to add data points to the Historical Data Storage:
Go to the associated chart in Building Operator.
Click the pencil icon to edit.
Turn on the switches for each data point you want to add to the Historical Data Storage.
Press Save changes.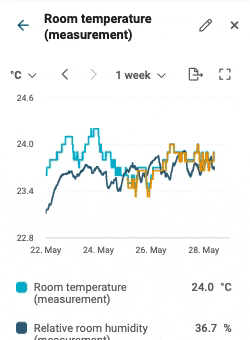 Note: Cloud History starts storing the data in the Historical Data Storage from the moment you turn on the switch. In addition, Compri HX controllers have a buffer in which historical data is stored for a limited time. This buffered data will be stored in the cloud after adding the data point to the Historical Data Storage.
Coming soon: If you have stored historical data locally in TC History, this data can be uploaded to the cloud using the TC History Uploader.
Also, the number of data points that can be added to the Historical Data Storage is limited. The maximum number of data points depends on your subscription.
Starter
Essentials
Plus
No Historical Data Storage

Short term: 3 days
Long term: 10 data points, 3 months *

* Possibility to extend with 50, 100, 250, 500, 1000 data points and 13, 26, 61 months of storage

Short term: 7 days
Long term: 50 data points, 13 months **

** Possibility to extend with 100, 250, 500, 1000 data points and 26, 61 months of storage