Consumption tables provide you with insight into the consumption of, for example, gas, water, and electricity in the building.
TC Engineer configuration
To be able to create consumption tables, the consumption measurement must be configured in the project in TC Engineer. Configure data points that give a new value on a recurring basis, where the new value is the consumption since the previous value was given.
In the Edit module window, on the Graphic tab, add registration elements for metering (e.g., Electricity meter).
In the Configure tab, configure the elements.

Change the element name in the Description field to ensure that all metering data points in the project have unique names. It is recommended to include the name of the meter or its location in the description.
Configure at least one of the elements other than the cumulative. The 15 min. interval is recommended because the shortest interval results in the most accurate values in the consumption table in Analytics.
Note that meters, which show the cumulative value for the amount consumed since the start of the project, should not be used with the consumption table in Analytics.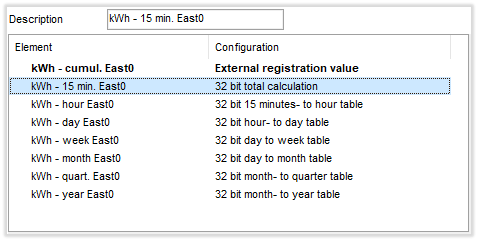 Electricity meter element configuration example
Consumption table in Analytics
The consumption table shows the total consumption over the full report period. This value is calculated as the sum of the consumption measured every 15 minutes / hour / day / month during this period.
Be aware that missing data during the report period will result in lower totals. It is also advisable to include a chart in the report with the same consumption data. This provides insight into any deviating values or gaps in the data.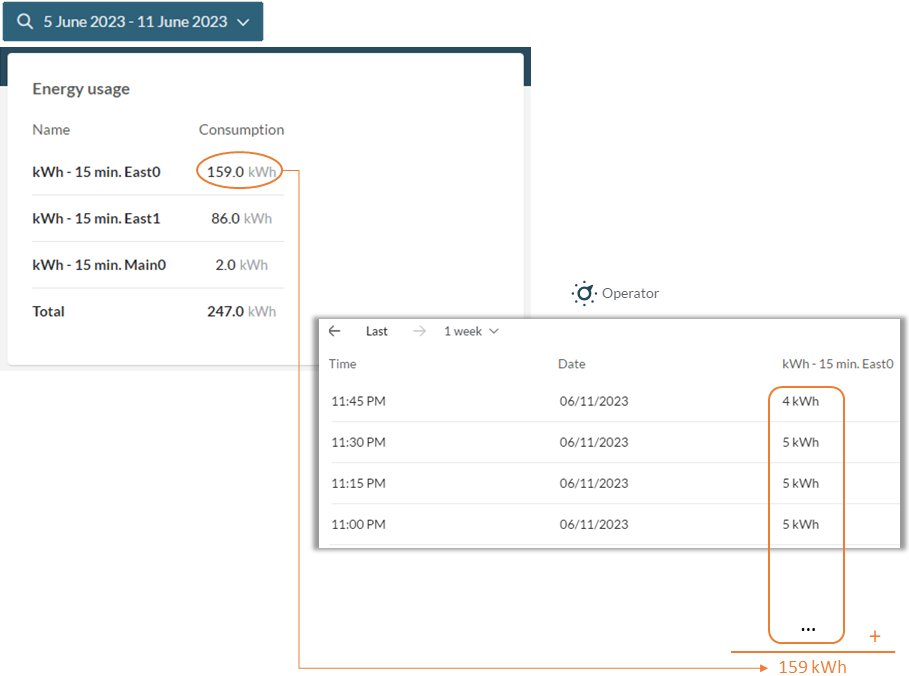 Consumption table example (with related table from Building Operator for explanation)